I'm nuts and I know it. But so long as I make 'em laugh, they ain't going to lock me up.
-Red Skelton
Boy, do I have just a little squirrely tale for you today!
The story I hear is that Menopausal Mother went and buried her nuts at Baking In A Tornado's place.
Naturally, Baking in A Tornado was ready to retaliate and flashed Menopausal Mother a side boob!
Oh… there is some wicked chicken somewhere between the rodent and the gratuitous mammaries.
I love both of these ladies and thank Baking In A Tornado for another valid excuse in which to embarrass myself further. It warms my nutty little heart to be in such good company.
Rules of the Squirrely Blogger Award are:
Divulge 7 to 10 quirky facts about myself and then name 7 to 10 good sports pass this award on to.
You have not learned enough about my quirky, here's more!
1. I still sleep with my childhood blanket… on occasion.
It has a silky ribbon-like edge that I might have a habit of rubbing between my fingers when stressed or deep in thought. I can live without it but if it makes you happy, gives you comfort and doesn't damage anyone else or yourself in the process, why not?! Yes, The Prince thinks it odd but this behavior doesn't really register on his weird-o-meter fortunately. This Dumbo needs no feather but a blankie or silky ribbon is quite relaxing.
2. I started a publishing company and mentoring program because I couldn't.
I left no stone unturned trying to understand how the book publishing world worked, trying to get published and learned a great many painful lessons in the process. I couldn't get an agent to call me back. I couldn't get anyone to read my book. I couldn't do this and I couldn't do that. I couldn't see through the rejection and begin to believe that I didn't need any more than I already possessed. That's when my stubborn kicked in and McFurka Publishing was born. (We have a habit of naming our companies after a combo of our names.) My struggles gave birth to a publishing company that is geared towards young writers, walking them through the process of from concept to publish and connecting them to mentors in their genre. McFurka Publishing is set to publish my first novel in the new series on 10/22/13 and the good word spread quickly. My little program has already landed two novels, a book of poetry and a collection of short stories contracted to publish throughout Spring 2014!  Can't? My dear… yes, you CAN do anything you please and don't listen to anyone who tells you anything different!
3. If I have a pocket in what I'm wearing, when I leave the house it always contains .87 cents.
This is a special quirk… .87 cents is my mental cut off for paying with change or adding another dollar bill. In turn, I'm also willing to donate that .87 in that pocket which gives enough coins that the kids each could have a turn dropping a coin a the bucket. I dislike being the one to hold up a transaction so if one pocket always contains .87 cents I know I can get in and out without diving to the bottom of a purse… which I stopped carrying. Which leads me to #4.
4. I stopped carrying a purse.
Once known for my HUGE Mary Poppins knockoff high end purses in all variety, I now carry a red Coleman zippered pouch first aid kit. The sucker has everything under the sun, the size of my hand, fits a phone perfectly inside and I clip my keys to it via rock climbing carabiner. My neck/back pain has decreased and I always have the variety of bandages. Now if only Balenciaga and my Coleman first aid kit could have a love child.
5. I am not allowed to use the juicer without supervision.
You have one minor misunderstanding with a kitchen appliance and suddenly The Prince gets all protective over his toys. (The issue in question had nothing to do with the juicer, mind you.) Personally, I think I'm better served being protected from my mandolin than the juicer but the man loves his baked zucchini chips too much. 😉
6. We name Beta Fish after old ninja movie awful action phrases.
Our first fish, may he rest in the sewer system peacefully, was named "Whoop-a-cha".
The current fish is named "Hai-Ya".
The next one will be "Eeeeee-ah".
I can't really explain it but Bruce Lee must have had a profound impact on The Prince's noggin at some point or by saying the fish's name it usually ignites some form of silly slow paced ninja wars in the house… maybe both.
7. You can't come to our Thanksgiving table if you don't wear the most tacky, comfortable, embarrassing pajamas you own.
As the resident food pusher, Thanksgiving is like my Super Bowl of edible goodness and no one complains when I go a tad overboard in the kitchen. There are only two rules to attending our feast:
*Bring your own Tupperwear or you get no leftovers
*You MUST wear pajamas… NO EXCEPTIONS!!
We give special prizes to those that rock the most hideous, best slipper/socks and the best prize goes to those that enter the head wear for sleep category. Food served noon until you explode but you shall eat, relax and enjoy in the comfort of cozy gear. Pajama Thanksgiving might be one of the best ideas we ever came up with. Stop by… I have plush turkey hats for newbies to wear! 😉
8. I stood and cried in front of the .39 cents per pound plums, with a lady in the middle of Jons Market yesterday. We were both picking out fruit and she started crying. I asked if she was alright and she told me about her morning. So we stood there and picked out plums laugh crying together. We moved on to onions and sobbed there too. Sometimes ya need a good cry and someone to cry with… even if the manager was slightly concerned about the mental status of the boobs in produce. I had never seen that lady before in my life but I'm glad I wanted plums.
9. I once won tickets to an Oingo Boingo concert and a t-shirt because I had a safety pin.
A bunch of friends and I went to third street in Santa Monica one night to listen to a cover band play. The radio station sponsoring the event was giving out tickets and swag for having obscure things or answering ridiculous questions. I was wearing a safety pin bracelet so I got to see Oingo Boingo.
(Note here: the fact that in a sea of people no one else was wearing such a crafted item might either lead you to believe that I am such the trend setter or wonder if I was beat up a lot on the playground. Neither… but only because I was taller and athletic. There has clearly never been any hope for my cool.)
Now for the awards…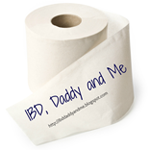 Being just a little squirrely is a great thing in my book!
Love,
Meg xoxo